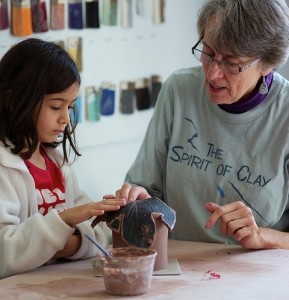 Bonnie Stearns, trained in both ceramics and education, earned her M.Ed. from the University of Washington and studied ceramics in Pennsylvania, London and New York City before moving to Vermont.
Bonnie loves to collect ceramic pieces as she travels, bringing home examples of traditional and unique pieces to inspire her students and create an appreciation of other artist's work.  Some of her most treasured are Native American pieces from the Southwest and children's work from Russia where she volunteered with Maria's Children. She also displays a number of pieces made by local artists and encourages her students to visit their studios.
Bonnie collaborated with the Vermont Arts Council, the Brattleboro Museum and Art Center and Early Education Services Windham County to create the Head Start Arts Partnership where she creates with preschoolers.
Bonnie has created customized ceramics workshops for Art in the Neighborhood, school enrichment programs, curriculum-related school residencies, nursery schools, scout troops, Big Brothers/Big Sisters of Windham County, and for adults with disabilities through VSA Vermont.